Calhoun Compounding Pharmacy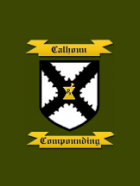 Visit:
Calhoun Compounding is an innovative pharmacy that specializes in the preparation of customized medication to meet specific patient needs. Donnie Calhoun, owner and PCCA member since 1992, is highly experienced and trained in specializing in the preparation and delivery of compounded medications.
All patients are not the same. This allows us to fit the patient with the appropriate dose and strength. It is our goal to work closely with physicians to solve medication problems and provide superior patient care and quality of life. This allows physicians to use unique formulas to tailor drug therapy based on a patient's weight and illness. Patients that may benefit are patients that require different formulations (difficulty swallowing pills), patients that need allergen free medications, patients that absorb or excrete medications abnormally, drug shortages, pediatric patients, pets, and patients that have trouble taking medications and may benefit from several active ingredients combined into one capsule. Patient safety, quality, and customer satisfaction are our top priorities.
Phone Number: 256-237-8139
Address: 3320 Henry Road, Suite E, Anniston, AL 36207
Map: click here
Last Updated:
May 13, 2013