BWM Pharmacy and Medical Supply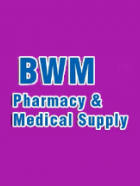 Visit:
At BWM Pharmacy & Medical Supply, we're dedicated to the idea that quality pharmacy care means more than just prompt prescriptions.
To us, quality care means that you get the prescriptions and medications you need, along with personal care and the attention you deserve. We derive pleasure in getting to know you and your unique needs.
Learn More About BWM Pharmacy & Medical Supply:
Compounding – Prescription compounds, custom medicine flavors, dosage adjustments, and more
Pharmacy – Prescription filling, generic drugs, and more
Medical Supply – Wheelchairs, scooters, walkers, and more
Most generic tablets – 30 days $5, 90 days $10
Patient consultations
Medicare and Medicaid services
Home delivery
Prescription filling
Compounding
Accepting all insurance plans and CHIPS
Phone Number: 281-469-1882
Address: 11850 FM 1960 Road West, Houston, TX 77065
Map: click here
Last Updated:
May 20, 2013