Brossart Pharmacy, Compounding & Medical Equipment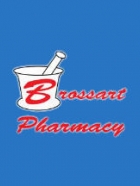 Visit:
Brossart Pharmacy Compounding and Medical Equipment is your premier full service pharmacy for the west side of Cincinnati. Founded in 1989 we have been a family owned business for over 20 years offering great customer service and helpful medical care. We accept most insurance programs and if you don't have insurance check out our $18 program which gives you 100 tablets on certain generic medications for $18.
Compounding: Compounding is the creation of a prescription medication for a specific patient that is not commercially manufactured. This can include Hormone medications, medications which was commercially available, but due to limited use has been discontinued, or a medication that needs to be in a specific dose for a patient that is not available commercially. WE LOVE COMPOUNDING because we usually see patients that have not received relief from commercially made medications and are able to give them a better quality of life.
Areas of Compounding: Hormones, pain gels, age spots, dermatology, epilepsy, children's medications not in liquid form, infertility, anything not available from drug manufacturers.
Medical Equipment: We have all types of medical equipment from shower stools to hospital beds. If we don't have it available we can order it in usually within a day.
Phone Number: 513-941-0428
Address: 45 South Miami Avenue, Cleves, OH 45002
Map: click here
Last Updated:
October 9, 2013