Broadway Prescription Shop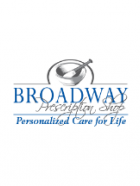 Visit:
When you walk in the front door at Broadway Prescription Shop you will be greeted by caring staff with a friendly smile. We are a true patient-centered pharmacy and want to listen to your needs. We offer up-to-date medical advice and strive to be a partner in your health.
At Broadway Prescription Shop our commitment to personal care is one of the reasons we have been in business for 80 years. We value our customers and are committed to doing all we can to be a lifelong partner in the health and wellness of you and those you love.
Broadway Prescription Shop is a compounding pharmacy. So, what's that mean? Well you are unique! While most prescriptions prepared for drug manufacturers work for most people, they may not work for everyone. This is why compounding medications is important for personalized care.
When you receive your compounded prescription you can trust that the medication was prescribed by your health care provider and made specifically for you by our pharmacist.
Phone Number: 573-335-8207
Address: 710 Broadway Street, Cape Girardeau, MO 63701
Map: click here
Last Updated:
September 5, 2013