Contributing Experts
Bradley Nelson, DC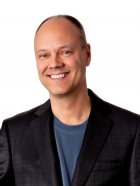 Visit:
Dr. Bradley Nelson graduated with honors from Life Chiropractic College West in San Lorenzo, Calif., in 1988. He has lectured internationally on the natural healing of chronic illness, and was in private practice until 2004, successfully treating patients from across the US and Canada who were suffering from Chronic Fatigue Syndrome, Fibromyalgia and a wide variety of other chronic ailments.
Widely renowned as a speaker and gifted teacher, Dr. Nelson is one of the world's foremost experts in the emerging fields of bioenergetic medicine and energy psychology. His best-selling book, The Emotion Code, offers step-by-step instructions for working with the body's own healing power.
Dr. Nelson is married and is the father of seven children. He lives with his family in Southern Utah.
Last Updated:
September 30, 2014