Contributing Experts
Bonni Lee Guerin, MD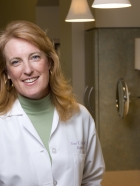 Visit:
Bonni Lee Guerin, MD, is director of the High Risk Breast Cancer Prevention Program at Overlook Medical Center, Summit, NJ where she also serves as director of oncology education and the High-Dose Interleukin II Program. Dr. Guerin is chair of the Multidisciplinary Breast Tumor Board.
Dr. Guerin earned her M.D. at SUNY Stonybrook in 1988, continued her residency at Vanderbilt University in Nashville and completed her fellowship in oncology/hematology at University of California San Diego Cancer Center. She is board certified in clinical oncology and internal medicine.
Since 2002, Dr. Guerin has served as chair of the Women's Oncology Forum, Network for Oncology Communication and Research (NOCR) – a national organization. She is a diplomate of the American Society of Clinical Oncology (ASCO) and is a recipient of the Pfizer Award for Excellence in Biochemical Research and a Member of the Expert Panel Consensus Guidelines for Systemic Therapy of Metastatic Renal Cell Carcinoma. Her interests are in breast cancer, hepatobiliary cancer and immunotherapy.
Last Updated:
March 10, 2015