Bevers Family Pharmacy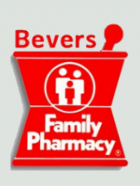 Visit:
Bevers Family Pharmacy offers prescription drugs and more in the Seymour, IN community. For over 25 years we have been the pharmacy with heart in downtown Seymour. Our staff and pharmacists care about your health, we offer personalized service unlike any other pharmacy in town can or will.
Bill Bevers originally owned two pharmacies in Seymour, Baldwins Drug Store and Jackson County Pharmacy. In 1985, he closed both of those locations and opened up Bevers Family Pharmacy across the street from Baldwins in what was the old Sears building downtown. Bevers has been serving the community in this location for 25 years now and counting! Operating an independent pharmacy is not as easy as it once was with big chain pharmacies popping up on street corners and inside of shopping centers. Bevers Family Pharmacy has stayed strong through these times thanks to the dedication of our loyal customers! Here at Bevers, we care about you and your health and we strive to be more friendly and dedicated to you than the big chains are willing to be. Our low prices haven't hurt our chances of survival either. If you have a problem with anything, we can guarantee there will be someone here to help you out in anyway they can. And God willing we will be here for another 25 years to serve you unlike anyone else in town can or will!
Phone Number: 812-522-5409
Address: 105 West Second Street, Suite 101, Seymour, IN 47274
Map: click here
Last Updated:
August 26, 2013