Bay Street Pharmacy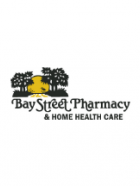 Visit:
Our mission is to improve quality of life one patient at a time and to live up to our motto, "where caring people care for you".
Bay Street Pharmacy & Home Health Care is Your Hometown Source for Medical Equipment Needs where "Caring People Care for You" for over 20 years. We are located just North of Sebastian River Medical Center on US Hwy 1 in the Bay Street Center, across from Ercildoune Lanes Bowling.
We are committed to providing you with friendly, professional and personalized service. We specialize in hard to find items. Every Wednesday from 8 a.m. to 2 p.m. we have Affordable On-Site Cholesterol Testing performed by Registered Nurse, Judy Sherako, with results in only 5 minutes.
Other Services Provided
• Delivery in Sebastian / Barefoot Bay area
• Compounding Pharmacy Services
• Monthly Prescription Bubble Packing
• Full line of Medical Equipment
• Complete Respiratory Services
• Weekly Screenings, including nutritional counseling (by appointment)
• Breast Prosthesis and Bras
• Diabetes Education Center and shoes & supplies
• We bill Medicare and Private Insurance
Come in and see our pharmacists Theresa Tolle, Cheryl Grage and Bob & Lynn Littleton, with any questions or concerns. Bay Street Pharmacy has been locally owned and operated since 1984.
Phone Number: 772-589-2043
Address: 7746 Bay Street, Sebastian, FL 32958
Map: click here
Last Updated:
May 13, 2013