Banks Pharmacy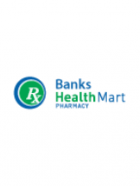 Visit:
We are locally-owned pharmacy located at the southern edge of Banks. We would love to become your Wellness Destination!
We are a retail pharmacy, focusing on providing healthcare solutions in a variety of ways in addition to traditional prescription filling. We are open Monday through Friday 10-7 and Saturday 10-3. Located next to Jim's Thriftway in Banks, Oregon. Our mission is to be the healthcare solution center for our area. Traditional prescriptions and over-the-counter medications, immunizations, FlavorRx (flavoring liquid medications to make them easier to take), online refill requests, auto-refills, and more!
Our Health Mart pharmacy specializes in serving our community with fast, friendly, professional service and the highest-quality medicines and health products. You'll always work with somebody at our pharmacy who greets you by name, and our pharmacists take the time to counsel you and answer your questions. Visit us for all your healthcare needs!
Phone Number: 503-324-5780
Address: 12350 NW Main Street, Suite 102, Banks, OR 97106
Map: click here
Last Updated:
September 4, 2013