Apothecare of Cape Cod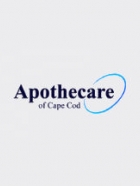 Visit:
Apothecare is the leading independent long-term care and Retail Pharmacy choice on the cape. We have courteous, experienced and professional Pharmacists as well as pharmacy technicians that can offer assistance to any of your needs. We service retail customers, as long as long term care, group homes, psychiatric patients, substance abuse as well as HIV and non-sterile compounding. Along with our sister store West Gate Home Medical we can fulfill any of your medical needs.

We offer many choices of medication packaging such as vials, unit dose, calendar cards, count cards, cold and heat seal as long as Medicine-On-Time, and have a variety of Medication Administration Records to choose from. We deliver from Provincetown to Plymouth and even New Bedford. Our staff is up to date on MAP rules and regulations, and we offer emergency 24 hour service.
Phone Number: 508-775-9254
Address: 205 West Main Street, Hyannis, MA 02601
Map: click here
Last Updated:
July 8, 2013