Advance Care Pharmacy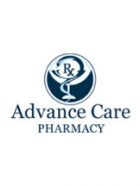 Visit:
The one stop pharmacy for all your healthcare needs. Advance Care Pharmacy is a family owned state-of-the-art Full Service Pharmacy specializing in Long Term Care, Hospice, and Customized, Contemporary Compounding. We are committed to bringing you the Very Best Professional and Quality Services; staffed by friendly, helpful and knowledgeable staff. We bring Pharmacy to the Next Level: an Information Source, a Healthcare Center, and an Integral Part of your Goal toward Healthcare. Our friendly, skilled staff is pleased to serve you.
Advance Care Pharmacy offers expertise and a range of services to provide top-level pharmacy care to the residents of your senior living community. Our pharmacists are also available for emergencies 24 hours a day, seven days a week.
The Advance Hospice Care Program is all about helping you help your patients. You receive the strength of strong clinicians working with you every day, who understand the best therapies available for patient care as well as the need to reduce the cost of medications.
Advance Care's Compounding Division offers a wide variety of products and services for total wellness. We offer compounded medications for both human and veterinary needs, prevention and wellness programs, and natural hormones.
Phone Number: 760-737-0558
Address: 528 North Broadway, Escondido, CA 92025
Map: click here
Last Updated:
August 29, 2013