Access to Care Pharmacy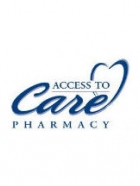 Visit:
Access to Care Pharmacy is a locally owned, independent retail pharmacy. We are located in the lobby of the American Health Network building. We are open to the general public and accept most insurances.
The staff of Access to Care is committed to providing quality pharmacy services. Our pharmacists take pride in educating our patients about new medications and their existing medication regimans. The pharmacists are supported by a highly experienced and dedicated pharmacy technician staff. Providing quality pharmacy services with great customer service is our goal.
Phone Number: 765-213-2866
Address: 3631 North Morrison Road, Muncie, IN 47304
Map: click here
Last Updated:
October 8, 2013