15th Street Pharmacy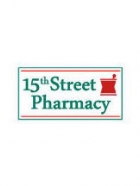 Visit:
Local pharmacy in Tuscaloosa, Alabama.
We know that navigating through the maze of CDC-recommended immunizations and school-required vaccines can seem overwhelming. That is why our trained pharmacists are here to help. From making personalized recommendations to working with your insurance company, our goal is to make the immunization process as easy as possible.
Our trained pharmacists offer a variety of health screens to help you take control of your health. Whether you want to know how to better manage your diabetes or want to understand your possible risk for heart disease, we can provide you with the information needed to start acting today.
Phone Number: 205-345-3180
Address: 445 15th Street East, Tuscaloosa, AL 35401
Map: click here
Last Updated:
November 14, 2013