Young's Pharmacy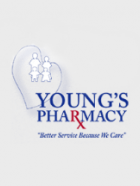 Visit:
Young's Pharmacy has been a part of the community since 1976. We are a family owned, independent pharmacy. We are open 7 days a week to meet our customers needs.
We have a fast courteous service with a wait time no longer than 15 minutes. We accept most prescription plans and those without a plan we offer our One Price Plan.
We supply diabetic shoes and supplies with helpful fittings for the right shoe. With every dollar spent at Young's you can earn 5% back when you open a Frequent Shoppers Club card. When you reach 200 points a $10 gift card will be mailed to you. We also provide free blood pressure check, Bridgewater Candles, American Greeting cards and our large gift department for all your shopping needs.
"Better Service Because We Care"
Phone Number: 610-866-4552
Address: 3708 Freemansburg Avenue, Bethlehem, PA 18020
Map: click here
Last Updated:
July 31, 2013