Miranda Savioli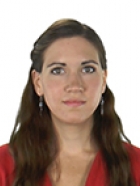 Miranda joined the dailyRx team in June, 2014 as on-air reporter. While she's usually in front of the lens, she also works behind-the-scenes, writing news stories and managing social media outlets.
A long time vegetarian, Miranda's writing interests usually focus on healthy eating and nutrition.
She recently moved to Austin, TX from the Northeast, where she received a degree in Journalism and Media Studies as well as a minor in Spanish from Rutgers, the State University of New Jersey. She gained reporting and media experience through multiple internships, including time spent with Clear Channel Communication + Media, Time Warner Cable NY1, WRSU, the Public Relations Department at Sussex County Community College, and the Office of the Mayor in Edison, New Jersey.
Last Updated:
October 13, 2014