Michelle Sherman, RPh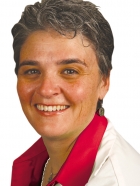 Visit:
Michelle Sherman is a nationally recognized HIV Credentialed Pharmacist, Speaker and Author practicing in Orange County, California for over twenty years. She has extensive experience and expertise with HIV medications, adherence and resistance issues, ADAP, CalOptima/Medi-Cal, Medicare Part D issues, 340B Programs, HIV Sensitivity issues and pharmaceutical care services for HIV infected individuals.
Michelle is co-founder and President of MichRx Pharmacist Consulting Services, Inc. in 2005. MichRx Pharmacist Consulting Services, Inc. is a top provider of innovative services and solutions for Pharmacists who want to grow and expand their businesses and focus on specialty niche markets such as HIV/AIDS.
The mission of the company is work with pharmacists to find their specialty niche and make their business profitable and marketable, while maintaining an environment of excellence to the health care of their patients.
The company is committed to providing cutting edge, quality educational programs and consultation services to physicians, nurses, case managers, pharmacists, corporations, associations, clinics, government agencies, community service providers, and HIV/AIDS patients.
Last Updated:
November 19, 2014