Contributing Experts
Jon O. Ebbert, MD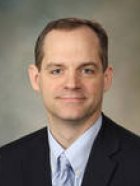 Visit:
The research of Jon O. Ebbert, M.D., focuses on the promotion of a healthy lifestyle through tobacco cessation and achievement of a healthy body weight. Dr. Ebbert is interested in medications for the treatment of tobacco dependence and the prevention of weight gain after smoking cessation. He is also interested in the assessment and development of clinical tools that can help patients achieve a healthy body weight.
His research focus areas are combination pharmacotherapy for smoking cessation, nicotine replacement therapy for the treatment of smokeless tobacco dependence, weight care managers for the treatment of obesity in the primary care setting and pharmacotherapy for the treatment of overweight and obesity.
Dr. Ebbert's work has the potential to significantly improve the health and well-being of patients who are dependent upon tobacco or who are struggling with their body weight.
Dr. Ebbert has served as the Associate Editor, Nicotine & Tobacco Research, 2011 to present, is a member of the Society for Research on Nicotine and Tobacco, 2006 to present, and a Fellow for the American College of Physicians in 2005.
Last Updated:
September 23, 2014