Haley Baker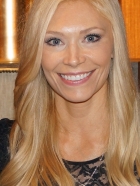 Visit:
Haley Baker was born and raised in the Bluegrass State. She graduated from Western Kentucky University with a degree in Broadcast News.
Haley's accomplishments in the news business range from producing, investigative reporting and anchoring the news at a number of television stations across the United States.
She and her husband, Army Major Josh Baker, currently live in Washington, D.C. They have two daughters ages 4 and 2. In her free time, she enjoys spending time with her family, running and spending time outdoors.
Last Updated:
May 27, 2015