Contributing Experts
David Shulkin, MD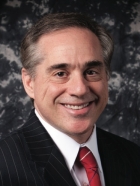 Visit:
As president of Morristown Medical Center, David Shulkin, MD, oversees the 658 licensed bed facility, which has been designated a Level 1 Regional Trauma Center by the American College of Surgeons and a Level II Trauma Center by the state of NJ, as well as a Magnet Hospital for Excellence in Nursing Service. Morristown Medical is also home to the largest cardiac surgery program in New Jersey, and the hospital carries the highest state designation for maternity centers, the Regional Perinatal Center, which allows the hospital to treat the most complicated obstetrical cases and provide specialized care to sick or premature infants. In 2013, U.S. News & World Report ranked Morristown Medical Center as a top hospital nationwide for cardiology and heart surgery, gynecology and geriatric care in the publication's annual "Best Hospitals" list. Morristown Medical Center also ranked among the best hospitals in New Jersey and as a "Best Regional Hospital" for cancer, diabetes and endocrinology, neurology and neurosurgery, and orthopedics, as well as gastroenterology and GI surgery, nephrology, pulmonology and urology.
Dr. Shulkin is also administrator of the Atlantic Accountable Care Organization, the second largest ACO in the nation. Touted as one of the "10 ACOs to Know" by Becker's Hospital Review, the Atlantic ACO includes a partnership with Valley Health System in Ridgewood, NJ, and participation from more than 1,300 physicians, including more than 200 primary care physicians, 50 nurse practitioners and 10 ancillary care providers in Bergen, Morris, Sussex, Somerset, and Union counties. Through its participating physicians, hospitals, and staff, Atlantic ACO is committed to improving the quality of health care and reducing the individual and clinical health care costs for the Medicare population served in these regions.
Dr. Shulkin joined Atlantic Health System in January 2010 from Beth Israel Medical Center in Manhattan, where he served for four years as president and CEO and led a financial turnaround and rebuild of the 1.3 billion dollar organization. A board-certified internist, Dr. Shulkin has served in numerous physician leadership and academic roles, including: chief medical officer for Temple University Hospital and for the University of Pennsylvania Health System and Hospital of the University of Pennsylvania, as well as vice dean and chairman of the Department of Medicine for Drexel University School of Medicine. As an entrepreneur, Dr. Shulkin founded and served as the Chairman and CEO of DoctorQuality, Inc one of the first consumer orientated sources of information for quality and safety in healthcare. Dr. Shulkin has been on the editorial boards of numerous journals including the Journal of the American Medical Association and Hospital Physician, and is on the editorial boards of the Journal of Patient Safety, the Journal of Clinical Outcomes Management and the Journal of Disease Management.
In 2011, for the third year, Dr. Shulkin was named one of the "50 Most Influential Physician Executives in the Country" by Modern Healthcare and Modern Physician. Previously, Dr. Shulkin was named one of the "100 Most Influential People in American Healthcare," as well as one of the country's top health care leaders for the next century by Modern Healthcare, and has received the International Leader in Health Care Award by the Healthcare Forum.
Last Updated:
January 20, 2015