Candice Mercadel, Pharm.D.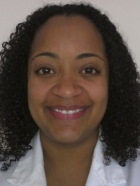 Candice Mercadel, Pharm.D. is a registered pharmacist currently working as the Transitions of Care Clinical Pharmacist at St. Vincent's Hospital in Birmingham, AL. She is helping reduce readmissions through eliminating patient access issues, addressing compliance through education, coordinating care and identifying possible drug related problems. She graduated in 2011 with a Doctor of Pharmacy degree from Howard University College of Pharmacy. After graduation, she worked as a community pharmacist for 2 years before she decided to pursue a residency to further her career goals of patient advocacy, innovations in community practice, and becoming a Board Certified Pharmacotherapy Specialist.
She completed a Post Graduate Year One (PGY1) residency at Samford University in conjunction with Family Medical Services Inc in 2014.
Last Updated:
November 19, 2014