Spence's Medical Center Pharmacy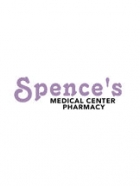 Visit:
Spence's Medical Center Pharmacy is a "One of a Kind" Health Care Facility that offers the best of Pharmacy, Nutrition, and Health & Wellness Services. Local Pharmacists and owners David Spence RPh & Joe Garrett PD, CCN, RPh, have teamed together to make this possible.
What makes us unique when it comes to you or your family's care is the numerous services we can offer you. We are Specialized and extensively trained with over 50 years of combined experience.
Services that we offer and are not limited to:
Prescription Compounding of both Sterile and Non-Sterile Medications
Drug Utilization Reviews and Outcomes
Health & Wellness Consultations
Bioenergetic Testing by Electro-dermal screenings
Certified in Orthotic & Prosthetic Fittings
Certified in Diabetic Consultants along with Diabetic Footwear Fittings
Medical Supplies
Large Selection of Homeopathics and Nutritional Supplements
Vaccine Administrations
Spence's Medical Center Pharmacy can help Doctors and Patients solve problems when they arise. When it comes to your health, one size does not always fit all! Please stop by and experience the services that you have been missing. You will be glad you did! We are your one stop shop when it comes to all your Healthcare needs.
Phone Number: 979-297-1776
Address: 215 Oak Drive South, Lake Jackson, TX 77566
Map: click here
Last Updated:
November 14, 2013