Seitz Drug Company, Inc.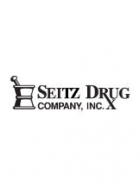 Visit:
Seitz Drug Company was established in 1867 by George Seitz with the founding of Ellsworth, KS. The location of the town was half way between present-day Ellsworth and Kanopolis, KS. A flood ruined that site and the town was moved to higher ground where it sits today. When the town moved, Seitz Drug relocated to the corner of North Main and Douglas Avenue, facing the railroad tracks. This would be the second of four locations. The store was passed on to Hans Seitz. Joe Seitz then succeeded Hans. Joe would be the last Seitz family member to own the company. Robert Nichols worked for Mr. Joe Seitz and took over the store upon his death in 1961. Mr. Nichols saw the traditional value of the Seitz Drug name and chose to keep it. Mr. Nichols sold the store to Terry W. Kepka in January of 1974. Mr. Kepka also chose to keep the name.

In the early 1900's, the store moved from the North Main location to the corner of Douglas Ave. and First St. Later, the store moved to its present location at 206 N. Douglas—part of the historic Wellington Building District. The Wellington building was made up of some 21 individual stores. Mr. Wellington was very enterprising. He had his own glazing company to take care of the glass in his buildings. He owned the first fire department which was located at the present-day City Hall. The Wellington block was heated by a coal fired boiler that was located under the present-day pharmacy. Also under the pharmacy was a barbershop that advertised bathing facilities. The basement businesses were interconnected by walkways. Many of these below ground businesses at that time were illuminated by large windows and, though bricked in now, can still be seen.

In 2009, downtown Ellsworth was designated as a national historic business district. With this designation, Mr. Kepka, along with others in the community, chose to restore the store fronts to their original grandeur. The community was also able to raise monies and acquire a grant to fund a downtown beautification project. These funds enabled the community to restore the downtown with period lighting, inlaid bricks, trees and shrubbery and a sound system. The whole project is in keeping with an early 20th century flavor.

Seitz Drug is able to operate a modern day pharmacy at a historic site. Besides the usual computerized system found in most pharmacies, the store offers patient counseling, blood pressure monitoring, medication therapy management, home healthcare supplies, gifts and a photo kiosk. Mr. Kepka is certified as an asthma manager and helps counsel diabetes management. Seitz Drug provides a sundries ordering service. If we do not have a particular item, we can order it and have it the next day. Seitz Drug is a traditional store with traditional personal service in a friendly atmosphere.
Phone Number: 785-472-3212
Address: 206 North Douglas Avenue, Ellsworth, KS 67439
Map: click here
Last Updated:
June 27, 2013