Sandra Leal, Pharm.D., MPH, FAPhA, CDE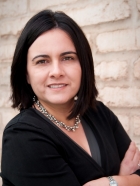 Sandra Leal, Pharm.D., MPH, FAPhA, CDE is the Director of Clinical Pharmacy/Broadway Clinic for Special Populations at El Rio Health Center in Tucson, Arizona. Her current clinical practice includes provision of clinical services in the areas of diabetes, hypertension, and dyslipidemia in a largely Hispanic and American Indian population.
She currently serves as Co-Chair of HRSA's Patient Safety and Clinical Pharmacy Services Collaborative. Her areas of specialty include development and reimbursement of clinical pharmacy services, diabetes self-management services and accreditation.
Other areas of interest include working with underserved populations, collaborative practice agreement development, safe medication use and implementation of effective health outcomes documentation.
Last Updated:
November 19, 2014