Mamta Karani, Pharm.D., BCPS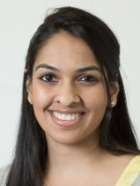 Dr. Mamta Karani is the staff community/ambulatory care pharmacist at the flagship Walgreens/Johns Hopkins collaborative store in Baltimore, MD.
She received her doctorate in Pharmacy from Rutgers University, Ernest Mario School of Pharmacy in May of 2012 and moved to Baltimore for the patient population. During her post-graduate residency in acute care at the University of Maryland Medical Center, she was able to follow her passion in serving the under-served population and focused her training in primary care and infectious disease, especially HIV.
This fall, she will be pursuing a masters degree in public health at the Johns Hopkins School of Public Health.
Last Updated:
November 19, 2014