Lyndsey Fraser , MA, LAMFT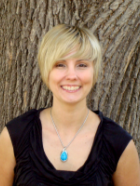 Visit:
Lyndsey Fraser is a Licensed Associate Marriage and Family Therapist (LAMFT) specializing in individual, couples and family therapy, and maintains a private practice in Minneapolis , MN
Lyndsey has served as a Case Manager for clients with severe and persistent mental illness (SPMI) and/or other physical disabilities for over the last seven years. This includes over two years experience as a marriage and family therapist working with individuals, couples, and families. She is a graduate of St. Mary's University specializing in systemic therapy. She is currently serving as private practitioner working with a broad spectrum of clients. Among her areas of expertise are couples therapy, internet addictions, internet infidelity, sexual concerns, rape/sexual assault, EMDR, and physical disabilities.
Lyndsey Fraser , MA , LAMFT is an interactive and systemic therapist. Her therapeutic approach is to provide support and practical feedback to help clients effectively address personal life challenges. She integrates complementary methodologies and techniques to offer a highly personalized approach tailored to each client. With compassion and understanding, she works with each individual to help them build on their strengths and attain the personal growth they are committed to accomplishing.

Education
Bachelor of Applied Science in Psychology from the University of Minnesota-Duluth
Master of Arts in Marriage and Family Therapy from St. Mary's University
License
Licensed Associate Marriage and Family Therapy (LAMFT)-license number 2380

Additional Training
EMDR
Cognitive Behavioral Therapy
Through the Path of Mindfulness
Motivational Interviewing
Overcoming anxiety, anger and depression
Presentations:
Is it Sexual Deviance or Sexual Addiction? The Ambiguity of Sexual Behaviors on the Internet. MAMFT Fall Conference 2011
with co-presenter, Renee Segal from Segal Psychotherapy.
Professional Activities and Memberships
Minnesota Social Services Association (MSSA)-since 2007
Minnesota Association for Marriage and Family Therapy (MAMFT)-since 2008
American Association for Marriage and Family Therapy (AAMFT)-since 2008
American Association of Sexuality Counselors Educators and Therapists (AASECT)-since 2012
Last Updated:
October 8, 2012