Linda Erwin-Gallagher, LMFT, CEAP, SAP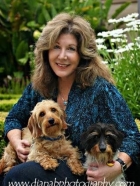 Visit:
Linda Erwin-Gallagher, LMFT, CEAP, SAP is a Licensed Marriage and Family Therapist specializing in individual, couples and family therapy, and maintains a private practice in San Diego, California.
With over 36 years of experience as a therapist, and a graduate of University of La Verne specializing in Counseling Psychology with an Emphasis in Marriage, Family, and Child Therapy, she is currently serving as a private practitioner working with a broad spectrum of clients.
Among her areas of expertise are high conflict couples, treating anxiety disorders and depression.
In addition, Ms. Erwin-Gallagher has presented at conferences, workshops, and to general audiences speaking on the topics of conflict resolution, stress management, positive psychology, and dealing with change. She is also a credentialed mediator helping people reach resolution.
Last Updated:
October 8, 2012