Leona Goda, Pharm.D.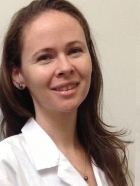 Leona Goda earned her Doctorate of Pharmacy at Philadelphia College of Pharmacy at the University of the Sciences in Philadelphia.
She brings over a decade of community pharmacy experience to the RxWiki team, as well as three years of medical writing experience, creating continuing medical education courses for physicians, pharmacists, and nurses.
Dr. Goda recognizes that patients and their families have many sources of health and medical information, but that the quality and accuracy of these materials can vary significantly. She strives to provide her patients and readers with information that is founded upon accurate, evidence-based medicine, so that they can participate in their care as educated partners.
She also provides vaccination services to her community as a certified Pharmacist Immunizer and is qualified to provide Immunization Certification training to other pharmacists.
She lives on the Big Island of Hawai'i with her husband and three children.
Last Updated:
April 27, 2015