Lam Nguyen, Pharm.D.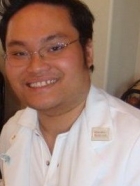 Lam received his Bachelor of Science in Biochemistry from the University of Texas at Arlington and my Doctorate of Pharmacy degree from the University of Texas at Austin.
Since his pharmacy school years, he has been and motivated by opportunities of complex problem solving, especially when standard of care might not be established and a clinical judgment was often called for. This intellectual motivation along with a genuine belief in patient-focused, multidisciplinary health care practice made hospital pharmacy my career commitment.
He is currently practicing as an inpatient pharmacist at Baylor Institute for Rehabilitation at Dallas, a 92-bed acute hospital committed to the care of patients who are recovering from traumatic brain injury, spinal cord injury, stroke, debility, and other orthopedic or neurological disorders. He is directly involved with drug distribution system, review and verification of physician's orders, and provision of pharmacy clinical services such as antimicrobial stewardship and pharmacokinetic drug monitoring.
His professional interests include anticoagulation, cardiology, critical care, infectious disease, neurology, and nutrition support. In his free time, he enjoys spending time with family, listening to music, visiting Buddhist temples, trying new restaurants, or reading a good book.
Last Updated:
November 19, 2014