Contributing Experts
Jordan Safirstein, MD, FACC, FSCAI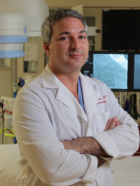 Visit:
Jordan Safirstein, MD, FACC, FSCAI, serves as assistant director of the Cardiac Catheterization Laboratories at Morristown Medical Center and Director of Transradial Intervention. Dr. Safirstein is fellowship-trained in cardiovascular disease and cardiovascular intervention and is board- certified in internal medicine, cardiovascular disease, interventional cardiology, and adult transthoracic and transesophageal echocardiography.
He is founder and course director of the Mid-Atlantic Radial Symposium (MARS), an annual conference hosting world-renowned thought leaders in the field of coronary and vascular intervention performed through the wrist.
Dr. Safirstein has had a keen interest in the internet's impact on medicine since the early days of his residency, when he developed the cult favorite StopPagingMe.com, an online social network for medical residents. He continued to develop his web presence with OpenSpots.com, a residency job board.
He has both authored and presented articles on how to use web-based advertising modalities to bolster studies of rare diseases. Dr. Safirstein's clinical success and awareness of the growing importance of mobile medicine and social media has positioned him well to contribute to several advisory boards, including Physicians Interactive and more recently, Google.
He earned his medical degree from the Chicago Medical School and completed his residency in internal medicine at the Albert Einstein College of Medicine, Montefiore Medical Center in New York. He subsequently completed fellowship training in cardiovascular disease and cardiovascular intervention at St. Vincent's Catholic Medical Center in New York City.
Last Updated:
April 1, 2014