John Blanchett, Pharm.D.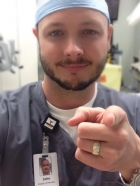 Visit:
John Blanchett is an Austin area pharmacist who has served the community in pharmacies and hospitals since 2001. He currently serves as the Director of Pharmacy Services for an Austin area hospital.
He received his Doctor of Pharmacy degree from the University of Texas at Austin and has practiced in a variety of settings. John is particularly drawn to adult internal medicine, surgical services, pain management and hospital business development.
Last Updated:
November 19, 2014