Jenna Klempay, Pharm.D.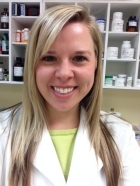 Jenna Klempay, Pharm.D. is a licensed pharmacist and earned her Doctor of Pharmacy from Duquesne University Mylan School of Pharmacy in 2012. She then completed her PGY1 community residency at the University of Maryland School of Pharmacy.
Currently she works as a clinical community pharmacist Professional Pharmacy, an independent community pharmacy located in Baltimore, Maryland. Her passion to help others led her to a career in community pharmacy where she can provide direct-to-patient care to her patients on a personal level.
Jenna spends her time as the clinical pharmacist by providing patient centered care through medication therapy management, counseling patients on medications and disease state management, providing community outreach educational programs, immunization clinics, and is also working on developing other patient care services. Additionally, she focuses largely on pain management and has implemented a pain medication therapy management service at Professional Pharmacy.
She is an active member of the American Pharmacists Association and the Maryland Pharmacists Association and a preceptor for pharmacy students.
Last Updated:
November 19, 2014