Jacqueline Cox, Pharm.D.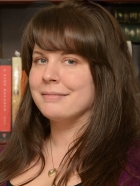 Jacqueline Cox is a clinical pharmacist working in home infusion and is a graduate of the University of Texas at Austin College of Pharmacy and McCombs School of Business. Her background is in business administration, corporate accounting, and pharmaceutical marketing research.
She has a passion for teaching and sharing her knowledge of pharmacy with others. Her current responsibilities include providing clinical services for home infusion patients and managing a local hospice pharmacy program. Outside of pharmacy, her interests include financial planning and investing, sewing unusual crafts, mixed media painting, and supporting the local music scene.
Last Updated:
November 19, 2014