Giannotto's Pharmacy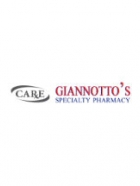 Visit:
For one quarter of a century, Giannotto's has been providing the highest quality care to our patients. Adjusting to changes in technology and advances in care for complex, high-risk disease states, Giannotto's is committed to providing the best in medication therapy. Our core staffing teams are valued for their knowledge and educational backgrounds in: personal compassionate patient care; pharmaceutical knowledge; coordination of insurance billing requirements; and ability to assist patients in any situation.
Giannotto's Specialty Pharmacy's comprehensive therapy management services assist patients with chronic illnesses to those ranging with complex medical conditions using a business model solely based upon patient care. Through clinical collaboration, hard-to-manage therapies are simplified. Our goal is to achieve superior clinical and economic outcome while maintaining the utmost compassion and care for our patients.
Giannotto's Pharmacy's competent, caring and steady presence has been felt on the corner of Bloomfield Avenue and 1st Avenue in Newark, New Jersey for over 15 years. Trushar Sheth, RPh completed his schooling in 1991 and purchased the independent pharmacy after graduation. His high professional standards and ideals meshed with the legacy of Giannotto's insofar as providing patients' with superior quality products, along with consistently maintaining professional service. Under the guidance and leadership of Sheth, patient services have expanded to include durable medical goods, and a specialty compounding pharmacy. Providing customers with friendly, consistent and reliable service in a clean environment is a legacy that continues to this day at Giannotto's.
Pharmacists' employed by Giannotto's are clinically trained in a variety of disease states and will impart their knowledge throughout the region by conducting educational seminars; instituting seasonal program offerings, and administering flu vaccines and immunizations within the community.
Phone Number: 973-482-8220
Address: 195 First Avenue, Newark, NJ 07107
Map: click here
Last Updated:
November 14, 2013