DeVille's Rising Sun Pharmacy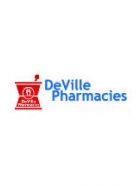 Visit:
Back by popular demand, a hometown pharmacy for all your medical needs. A local trusted name in pharmacy service, DeVille's has teamed up with the town of Rising Sun to open the new Rising Sun Pharmacy.
Our pharmacists address questions and concerns completely and confidentially, providing unparalleled service. We hope you'll enjoy shopping at Dillsboro Drugs and DeVille Equipment & Oxygen - it will always be our pleasure to serve you.
Come visit pharmacists and staff you already know and trust: Sarah (Eversman) Turner, Tom DeVille, Richard Jackson, Deborah Muenchen, and Jacob Eversman.
Phone Number: 812-438-3400
Address: 223 Main Street, Rising Sun, IN 47040
Map: click here
Last Updated:
November 13, 2013