Anna Ivanova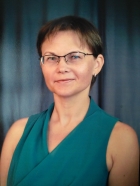 Anna Ivanova is a pharmacist student at the University of Texas at Austin. She obtained a B.S. degree in Secondary Education from the Chisinau State University, Chisinau, Moldova, and a Pharmacy technician diploma with honors form Humber Institute of Technology and Advanced Learning, Toronto, Canada.
Following graduation, she worked as a pharmacy technician in retail and hospital pharmacies in Toronto, Canada. After her family moved to Texas, Anna worked as a pharmacy technician faculty instructor at Virginia College in Austin and was recognized for valued contributions and dedication to student education.
Anna Ivanova is currently doing an internship with CVS Health Company. She believes that patient education plays a crucial role in drug use.
As a pharmacist, she plans on focusing on providing better information and communication practices based on active patient involvement in drug therapy.
Last Updated:
November 20, 2017