Amanda Pasciucco, M.A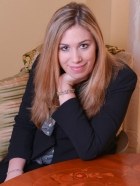 Amanda is a marriage and family therapist located in Wilton, CT. She has her Master's Degree and is currently pursuing an additional certification in Sex Therapy.
She currently provides services at her private practice and online to individuals, couples, and families.
Amanda writes weekly articles entitled "Wednesday Wisdom" for HamletHub and currently is in the process of publishing a book for children and families.
Last Updated:
October 8, 2012