Allison Gorrebeeck, MD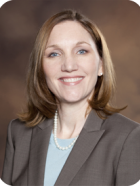 Visit:
"Ever since I can remember, I have always wanted to be a doctor. My interest in cancer was piqued during middle school when my grandfather was diagnosed with leukemia and I promised him that I would become a physician who helps people with cancer. Sitting in the 'loved-one chair' with my grandfather, and subsequently with other friends and family, strengthened my conviction to become an oncologist and do everything in my power to fight this devastating disease.
"As an experienced oncologist, I have seen promising scientific and technological advances, as well as increased awareness, in the fight against cancer. As exciting as this is, it is still the human interaction that is the most rewarding and enjoyable to me. My goal is to treat the whole patient and not just the disease, which entails getting to know my patients and their loved ones on a more personal level. This allows me to provide the most effective and compassionate care possible. As a veteran of the Air Force, I have had the opportunity to work alongside and treat people who are considered heroes in the traditional sense. However, in my eyes, everyone who battles cancer is heroic in his/her own right, and I am often awestruck and inspired by my patients and their loved ones as they battle through times of adversity. I draw from this inspiration and am very proud and fortunate that I get to do what I feel is my true calling on a daily basis and make a difference in people's lives."
Last Updated:
April 29, 2013