Contributing Experts
Alexander Kutikov, MD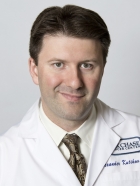 Visit:
Dr. Alexander Kutikov is a board certified, academic urologic surgical oncologist at Fox Chase Cancer Center who treats tumors of the adrenal, kidney, prostate, bladder, testis, and other genitourinary organs. Nevertheless, in his practice he does not solely focus on surgery. Working closely with other members of the Fox Chase multidisciplinary team, Dr. Kutikov makes certain that his patients are aware of all the choices that today's cutting edge oncological care have to offer, regardless of whether these treatments take place inside or outside the operating room.
When surgery is necessary, Dr. Kutikov strives to offer the best operation that fits an individual's particular condition and circumstance. Indeed, his unique fellowship training in both traditional open surgery and minimally-invasive approaches, such as laparoscopy and robotics, allow him to offer a wide range of options that optimize oncological efficacy and minimize post-operative recovery time. For example, Dr. Kutikov is skilled at both open and robot-assisted nerve-sparing prostatectomy and open, laparoscopic, and robotic kidney surgery. Particularly, he has advanced expertise in kidney preservation. For patients with bladder cancer, he is able to offer both bladder-sparing approaches and the latest techniques in continent urinary reconstruction. Furthermore, he has a particular interest and expertise in treatment of various tumors and conditions that stem from the adrenal gland.
As a clinician at an academic institution such as Fox Chase, Dr. Kutikov actively participates in medical research. In particular, his academic interests focus on kidney, prostate, bladder, and adrenal disease. Being an active contributor to the medical literature, he hopes to offer his patients the most up-to-date information on medical progress and, if necessary, help them enroll into appropriate clinical trials — many of which are only available through Fox Chase.
Modern oncology offers patients tremendous hope; however, today's treatment options can be overwhelming, especially to those who are trying to cope with the shock of a recent cancer diagnosis. Dr. Kutikov greatly appreciates the toll that such a diagnosis can take not only on the patient, but also on his or her family. He hopes to bring to every one of his patients a sense of understanding and compassion that can help them effectively work together to achieve the best outcome that modern medicine has to offer.
Last Updated:
July 8, 2013