Contributing Experts
John Paul Calvillo, Pharm.D.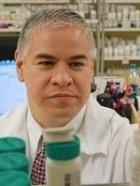 Dr. John Paul Calvillo graduated from the University of Texas Pan American with a Bachelors degree in Biology and a minor in chemistry. He then served as an adjunct professor for South Texas Community College, where he started the Rio Grande Valleys first pharmacy technician class. He pursued his pharmacy career and obtained his Doctorate of Pharmacy in 2002 from Texas Southern University. Dr. Calvillo then completed an Ambulatory Care Residency in a managed care setting at the joint facilities of Kelsey Seybold, St. Luke's Hospital and the University of Houston College of Pharmacy.
Dr. Calvillo has focused his career in the area of independent pharmacy practice and has experience in home infusion, compounding, immunizations and hospice care. He was an independent pharmacy owner for 8 years. He currently serves as a preceptor for Doctor of Pharmacy candidates from University of Texas at Austin, Texas Southern University and Texas A&M Health Science Center. He was named the 2012 Texas Pharmacy Association Pharmacist of the Year.
Dr. Calvillo currently serves as the director of pharmacy for CentRx Pharmacy at Mcallen Medical Center in Texas.
Last Updated:
November 12, 2015